The mission of the Large Animal Protection Society is to stop cruelty to large animals in our community.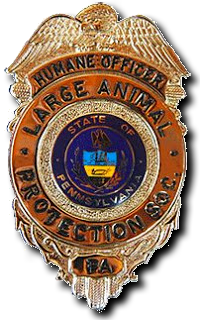 Established in 1988, the Large Animal Protection Society (LAPS) is an all-volunteer nonprofit, state chartered, humane agency that has state authority to investigate cruelty complaints and prosecute offenders in order to enforce Pennsylvania's animal cruelty laws in Chester, Delaware, and Lancaster counties. LAPS' state-trained, court-authorized, and badged Humane Society Police Officers provide a valuable community service by intervening in suspected cases of animal cruelty involving large animals. Read more about LAPS and Pennsylvania law. ImageSimilar to SPCAs that help dogs and cats, we use our facilities, equipment and experience with horses, donkeys, cows, pigs, goats, llamas, alpacas and sheep to take action in cases where the local, small-animal SPCA cannot.All calls to LAPS reporting suspected abuse or neglect are confidential. Call 610-869-9880. How to recognize suspected abuse or neglect.In many cases, owner ignorance is the problem, and L.A.P.S. agents are there to educate and advise on nutrition and proper care. However, in case of intentional abuse, neglect or abandonment, citations may be issued and animals may be legally seized. Find out more about animals we have helped.
With proper care most animals respond and are put up for adoption. LAPS has a strict adoption policy that requires regular monitoring, thereby insuring lifetime protection for each animal. See animals currently available for adoption.
LAPS is an all-volunteer, nonprofit agency that depends on your generous donations, large and small, to provide this vital service to our community. LAPS receives no funds from local or state government. We need your support — please Donate to LAPS today. LAPS is a registered IRS 501(c)3 public charity and your contributions are tax deductible. Consult your tax professional.